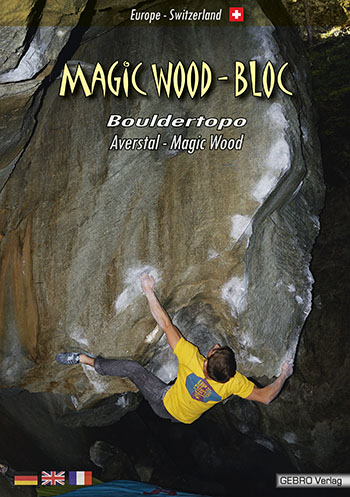 ISBN 978-3-938680-39-1
2. Auflage • 2nd edition 06/2019
dreisprachig • trilingual
deutsch / englisch /français
german / english / french
Autoren • Authors: Ulrich & Harald Röker
Magic Wood - Bloc
Bouldertopo Averstal - Magic Wood
Das Standardwerk für das beliebteste Bouldergebiet des zentralen Alpenraums der Schweiz - komplett überarbeitet und deutlich erweitert.
Wiederum wurde das Bouldergeschehen der letzten Jahre akribisch recherchiert, alte Informationen überarbeitet und die "Datenbank" der Boulderprobleme im Wald wieder deutlich erweitert. Dazu hat das Autorenteam bei vielen Besuchen des Gebietes in den letzten Jahren das Blockfeld wiederum mehrfach durchkämmt, viele in Vergessenheit geratene Probleme wieder entdeckt und oft mit einigem Aufwand reaktiviert. In diesem Zuge entstanden auch zahlreiche Erstbegehungen. Genauso umfänglich wurde das Bouldergeschehen der jüngsten Zeit auch mithilfe der ortsansässigen Gebiets-Spezialisten auf einen topaktuellen Stand gebracht.
260 neue Boulderprobleme sind in dieser Auflage dazu gekommen, so dass nun 1213 Linien im Magischen Wald beschrieben werden. Allein im oberen Schwierigkeitssegment ab 7c+/8a sind 26 neue Probleme zu verzeichnen.
Das Buch ist vollgepackt mit praktischen Details und jeder Menge Information, damit der Aufenthalt im Gebiet möglichst unkompliziert wird:
Extrem hilfreich ist ein Index aller Boulderprobleme, mit dem schnell und effizient einzelne Probleme im Buch aufgespürt werden können.
Die beiden Umschlagklappen können hervorragend als Lesezeichen benutzt werden, so dass das Buch immer blitzschnell an der Seite markiert werden kann, wo man sich aktuell befindet.
Mit dem Kauf eines Exemplares des Buches wird auch jedesmal die Arbeit der IG Magic Wood finanziell unterstützt, die sich in vorbildlicher Weise um den Erhalt des Gebiets kümmert.
The standard for the most popular bouldering area in the central Alpine region of Switzerland - completely revised and significantly enhanced.
Again the bouldering goings-on have been meticulously researched, old information was revised and the number of problems in the "database" for the forest was strikingly increased. For that the authors combed the woods for many days, numerous forgotten problems have been rediscovered and often reactivated with a lot of effort. Equally extensive the bouldering goings-on of the latest days were thoroughly updated also with the help of local climbers.
260 new problems have been added to this edition, now 1213 lines are described in the Magic Wood. Just in the upper grades starting from 7c+/8a 26 new problems could be recorded.
The book is packed with functional details and a lot of information hence the stay in the area becomes easy and straightforward:
Extremely helpful is an index of all problems. With this it's possible to locate specific problems inside the book very fast and efficiently.
The 2 flaps of the cover can be used perfectly as book marks. Such the book can be marked super fast at the page where you are staying at the moment.
With the purchase of a copy of that book each time the work of the IG Magic Wood, which cares exemplary about the preservation of the area, is financially supported.
Komplett in Farbe • Completely in colour