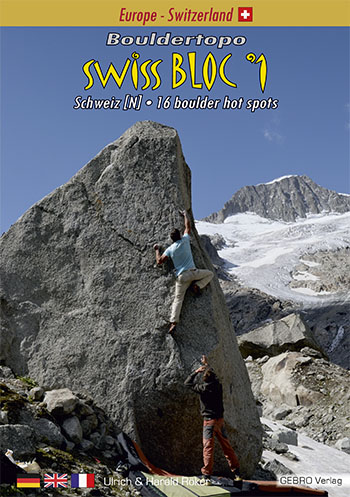 ISBN 978-3-938680-43-8
4. Auflage • 4th edition 05/2020
dreisprachig • trilingual
deutsch / englisch /français
german / english / french
Autoren • Authors: Ulrich & Harald Röker

Leseprobe • Reading rehearsal
(leicht reduzierte Auflösung • slightly reduced resolution)
SwiSS Bloc °1
Bouldertopo Schweiz [N]
Überarbeitete Neuauflage (2020) • Revised Edition (2020)
16 Boulder Hot-Spots zwischen Schaffhausen und dem Alpenhauptkamm.
Höhlenkalk am Kesslerloch, feinster Granit im Magic Wood und an den hohen Schweizer Pässen,
chilliges Bouldern in Engelberg, sandsteinartige Block-Meere um Kandersteg und darüber hinaus noch einige weitere Boulder-Leckerbissen.
Erstmalig in einem Buch vorgestellt werden die Gebiete am Nufenenpass und am Furkapass.
Am Furkapass schlummern zahllose exzellente Boulderprobleme in hochalpiner Umgebung in bis zu 2600 m Meereshöhe und warten auf hungrige Wiederholer. In den letzten Jahren hat dort eine motivierte Gruppe boulderbegeisterter Kletterer aus der Luzerner Gegend immer wieder neue Blöcke und Sektoren erschlossen. 2019 stieß dann auf Einladung Harald Röker zu der Erschließergruppe und dank toller inspirierter Tage zusammen mit den schweizer Freunde verdoppelte sich die Anzahl der gekletterten Probleme auf 400 Linien von ganz einfach bis ca. Fb 8b.
In den Schweizer Bergen schlummert noch ein nahezu unerschöpfliches Material an Blöcken und wartet darauf, entdeckt zu werden. Dieses Topo bietet eine Bestandsaufnahme der meisten wichtigen Schweizer Boulderspots im Gebiet der deutschsprachigen Schweiz. mehr...
16 boulder hot spots between Schaffhausen and the Alpine divide.
Cave-limestone at Kesslerloch, fine granite in Magic Wood and the high Swiss passes, relaxed bouldering in Engelberg, sandstone-like huge boulder fields in Kandersteg and some more boulder goodies will be introduced in this guidebook.
For the first time the areas at Nufenenpass and Furpass will be published in a guidebook
At Furkapass numerous boulderproblems are waiting in an overwhelming alpine landscape up to an altitude of 2600 m for motivated boulderers. During the last years a group of psyched climbers from the Luzern area developed continuously new problems and sectors. 2019 they invited Harald Röker to join and thanks to great inspiring days together with the swiss friends the number of problems was nearly doubled to 400 lines from very easy to ~Fb 8b.
In the Swiss mountains an almost inexhaustible potential of boulders is waiting to be discovered. This guidebook takes stock of the current situation of most of the important Swiss boulderspots in the area of the german-speaking part of Switzerland. more...
Komplett in Farbe • Completely in colour