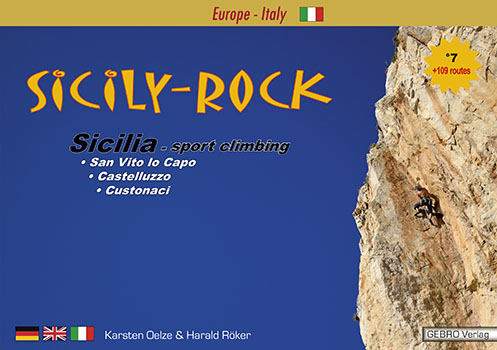 ISBN 978-3-938680-40-7
7. Auflage • 7th edition 01/2020
Autoren • Authors: Karsten Oelze & Harald Röker
Das Original für die Gebiete um San Vito!
Wir arbeiten sehr eng mit den Haupterschließern des Gebietes zusammen und sind damit immer auf einem extrem aktuellen Stand. Das Autoren-Duo hat sogar einen erheblichen Teil vor allem der schwierigeren Routen selbst erschlossen, damit fließen automatisch Gelder aus dem Verkauf des Buches wieder in Haken-Material fürs Gebiet!
Der Recherche-Stand ist Mitte Dezember 2019 und damit ist der "Sicily-Rock" ziemlich sicher das aktuellste Buch auf dem Markt zu den Gebieten um San Vito.
The original book for the San Vito areas!

We work closely together with the main developers of the area and therefore are always extremely up-to-date. The two authors have developed many of the a bit harder routes themselves, so a pretty large amount of the selling goes back into bolting material for the area!
The research is effective mid December 2019 and therefore the "Sicily-Rock" is pretty sure the most up-to-date book to the San Vito areas available on the market.
dreisprachig • trilingual
deutsch / englisch / italiano • german / english / italian
Komplett in Farbe • Completely in colour

Buchvorstellung/Waschzettel (7. Auflage)
Übersicht/Bilder zu vielen Gebieten
Sicily-Rock
Sicilia - sport climbing
San Vito lo Capo • Castelluzzo • Custonaci
Rocca Firriato • Monte Monaco • Pizzo Monaco • Nuova Ossessione • Cattedrale nel Deserto • Il Grande Occhio • Scogliera di Salinella • Valanga • Macari - Placche di Macari (Lage • situation) • Lost World • Torre Radio Nord • Grotta Perciata • Castelluzzo Outdoor Wall • Crown of Aragon • Cinema Paradiso • Custonaci / Scurati
Das im Nord-Westen Siziliens gelegene Gebiet um San Vito lo Capo ist eines der besten europäischen Klettergebiete für die kühle Jahreszeit.
Viele Routen sind direkt vom Campingplatz aus erreichbar und am Monte Monaco warten sogar Mehrseillängenrouten bis zu 400 m Höhe auf Wiederholer.
Das milde Klima, günstige Flugverbindungen, die Infrastruktur von San Vito (Strand, Supermärkte, Restaurants, Hotels,...) sowie viele hervorragend abgesicherte und wirklich exzellente Sportklettereien (besonders auch in den unteren Graden) machen dieses direkt an der Küste gelegene Gebiet zu einem absoluten Topspot des Europäischen Klettergeschehens.
Angenehme Temperaturen auch im Winter (viele süd/west-seitige Sektoren)
Strandnähe, das Gebiet liegt direkt am Meer
Generell extrem kurze Anmarschzeiten: Viele Felsen sind in 1-5 Minuten erreichbar
Der Campingplatz El Bahira liegt direkt am Meer unterhalb des größten Felsriegels. Die ersten Sektoren sind in wenigen Schritten zu Fuß erreichbar
Hervorragende und günstige Flugverbindungen nach Birgi-Trapani oder Palermo
+109 neue Sportkletter-Routen (im Vergleich zur 6. Auflage)
Die in den letzten Jahren entstandenen alpinen Mehrseillängen-Routen am Monte Monaco wurden in dieser Auflage mit aufgenommen
1200 Sportkletterrouten sowie zahlreiche Mehrseillängenrouten bis 400 m
The area San Vito lo Capo in the north-west of Sicily is one of the best European climbing destinations for the cooler season.
Many routes can be reached on foot from the camping and Monte Monaco even offers some multi-pitch climbs up to a length of 400 m.
The moderate climate, the situation close to the sea, cheap flights, the infrastructure of San Vito (beach, supermarkets, restaurants, hotels,...) and the very well protected and really excellent routes (also in the moderate grades) make this area to a real top-spot of European climbing.
Comfortable temperatures also in winter (many south/west facing sectors)
Close vicinity to the beach, the area lies directly at the sea
Very short approach times: Many crags can be reached in 1-5 minutes.

The campsite El Bahira lies directly at the coast and below the biggest cliff. The first sectors are only a few steps from the campsite area.

Excellent connections and cheap flights to Birgi-Trapani or Palermo from all over Europe

+109 new sport climbing routes (compared to the 6th edition)
The alpine multi-pitch routes on the Monte Monaco which have been done in the last years have been added to this edition
1200 sport climbing routes and numerous multi-pitch routes up to 400 m