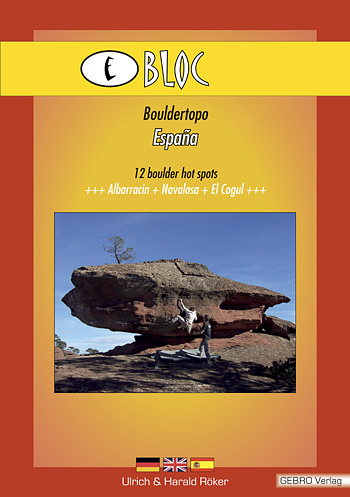 ISBN 978-3-938680-10-0

dreisprachig • trilingual
deutsch / englisch /español
german / english / spanish
Autoren • Authors: Ulrich & Harald Röker
Vergriffen • Out of print
eBloc
Bouldertopo España

12 Boulder Hot-Spots zwischen Pyrenäen und der Gegend um Madrid.
Granit im französischen Targasonne, Sandstein und Konglomerat in Katalonien, ebenfalls Sandstein der allererster Güte in Albarracín und Granit im Großraum um Madrid.
In Spanien warten einige Gebiete der Extraklasse auf den boulder- und sonnenhungrigen Felsfreund. mehr...
12 boulder hot spots between the Pyrenees and the region around Madrid.
Granite in the French area Targasonne, sandstone and conglomerate in Cataluna, also premier quality sandstone in Albarracín and granite in the region around Madrid.
In Spain there are definitely waiting some world-class areas for the rock- and sun-seeking climber. more...
Komplett in Farbe • Completely in colour
Übersicht/Bilder zu vielen Gebieten
(www.blocheart.de)
Albarracín
• Wichtige Ergänzungen zum Sektor Tierra Media und anderem
• Neue verbotene Sektoren und Kletterregelungen
Albarracín
• Important additions to the sector Tierra Media and more
Targasonne*
Savassona
Sant Joan de Vilatorrada
Belianes/Malda
Cervià
El Cogul
Albarracín
La Pedriza**
El Esorial
Zarzalejo
Burguillo
Navalosa
* Kurzvorstellung
Short introduction
**
Basic-Info zu Anfahrt und Lage
Basics to getting there & situation