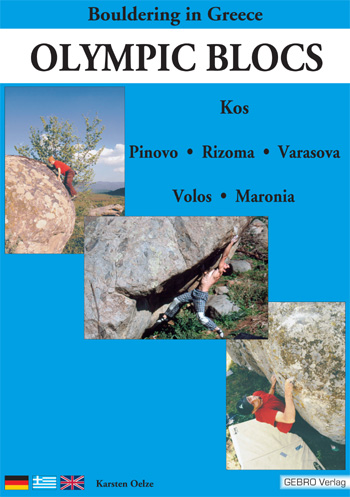 ISBN 3-938680-03-2

ISBN13 978-3-938680-03-2


Autor • author : Karsten Oelze

dreisprachig • trilingual

deutsch/englisch/griechisch•german/english/greek
Vergriffen • Out of print
Bouldering in Greece
OLYMPIC BLOCS
Kos • Pinovo • Rizoma • Varasova • Volos • Maronia
Karsten Oelze beschreibt erstmalig die exzellenten Bouldermöglichkeiten in Griechenland. Das Buch ist Deutsch/Englisch/Griechisch und beinhaltet ausführliche Beschreibungen der Gebiete, der Boulderprobleme, von Zugang, Unterkunft, ...
Viele Bilder im Innenteil machen Lust, dieses perfekte Ziel für die kalte Jahreszeit möglichst bald kennenzulernen.
• Genaue Anfahrts- und Zustiegsbeschreibungen
• Topos der Blockfelder
• Viele Fotos der Blöcke mit eingezeichneten Boulderverläufen
• Viele Actionbilder im Innenteil
• 96 Seiten geballte Information
Karsten Oelze describes the superb bouldering possibilities in Greece. The book is in English/German/Greece and contains detailed descriptions of the areas, the boulders, the getting there, accommodation, …
Many pictures inside will let you want to start directly for that perfect winter/spring/autumn bouldering destination.
• Detailed access information!
• Topos of the boulder-fields!
• Many photos of the boulders with the course of the problems!
• Many pictures inside!
• 96 pages of powerful information!
Verkaufsstellen • Selling points


Leseprobe
Reading rehearsal
leicht reduzierte Auflösung
slightly reduced resolution