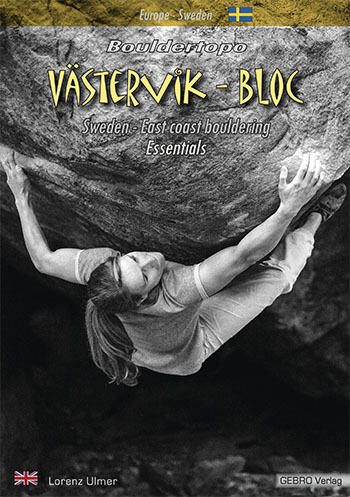 ISBN 978-3-938680-34-6
1. Auflage • 1st edition 07/2017
Englisch / English
Autor • Author: Lorenz Ulmer
Bouldertopo
Västervik - Bloc
Sweden - East coast bouldering
Essentials
Das Buch für den Boulder-Hot-Spot an der schwedischen Ostküste.
Die Leckerbissen des Gebiets vom Gebietskenner und Miterschließer Lorenz Ulmer übersichtlich und ansprechend präsentiert
Das Buch ist vollgepackt mit praktischen Details und jeder Menge Information, damit der Aufenthalt im Gebiet möglichst unkompliziert wird.
The book for the Swedish east-coast boulder-hot-spot.
The best of the area presented by the area-expert and co-developer Lorenz Ulmer.
The book is packed with functional details and a lot of information hence the stay in the area becomes easy and straightforward.
Komplett in Farbe • Completely in colour
Mehr Info:

Reading rehearsal
leicht reduzierte Auflösung
slightly reduced resolution
(www.blocheart.de)